Is it a requirement that my orthodontist's appointment is scheduled by the family dentist?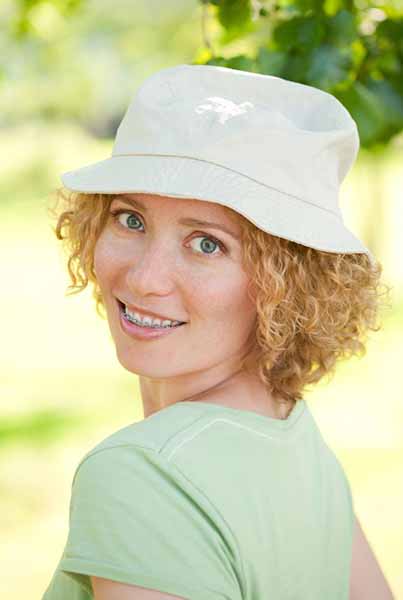 It is definitely not. A number of patients get referrals from their family dentist; however, a lot of other patients schedule an examination on their own.
How old do I need to be to get an orthodontic screening?
It is the recommendation of the American Association of Orthodontists that an individual gets a screening at the age of 7. By that age, there has been the eruption of many permanent teeth in the majority of children, enabling us to assess your condition in the most effective way.
Will my teeth become straighter as they grow?
Unfortunately, they will not. The available space for the front teeth will not get bigger as you age. In the majority of individuals, after the eruption of the permanent molars, the available space for the front teeth will decrease as they age.
What do I need to do to set up an appointment for my first exam?
In the event that you or a loved one can possibly benefit from an orthodontic treatment, just call our office and a representative will happily schedule your appointment. While you are scheduling your appointment, the front office staff will ask you for some basic information.
What will take place at the very first appointment?
When you arrive, the patient and accompanying parent will consult with the doctor and staff members who will show you around, get you comfortable with your surroundings and get you ready for the initial exam. The necessary X-rays and photographs will be taken to enable us to properly diagnose the condition. Then the doctor will carry out a brief, yet thorough, examination.
See the First Visit Page for additional information on this.
What knowledge will I gain from the first exam?
Five essential questions will be covered during the initial exam:
Does a problem exist, and if it does, what is it?
How can the problem be corrected?
Is there a need to remove any teeth?
What is the duration of the treatment?
What is the cost of the treatment?
Will there be a need to extract any teeth for my braces?
From time to time removing teeth is required in order to get the best result. Straightening teeth and creating a symmetrical facial profile are the ultimate goal of orthodontics. Nevertheless, given that new technology has allowed for advanced orthodontic procedures, extracting teeth is not always required for orthodontic treatment.
What is the duration of the complete treatment?
Obviously, treatment time will depend on the specific orthodontic problem of each patient. Generally speaking, treatment times range between 8 and 18 months.
What is the cost of the procedure? Are there available options for financing? What role does my insurance play?
It is not possible to provide a precise cost for treatment before the examination is done. During the initial exam, your financial options and exact cost will be covered. There are several available financing options to meet your needs and these will be reviewed with you. Your insurance policy will also be reviewed to assist you in maximizing your benefit and filing your claims.
What will be the frequency of my appointments?
The appointments are scheduled based on the needs of each patient. The majority of patients who wear braces will be scheduled for an appointment every five to ten weeks. In the event that there are particular situations which require monitoring on a more frequent basis, the appointments will be scheduled accordingly.
Can my appointments be scheduled for after school?
Regrettably, we will not be able to schedule all student appointments for after school. However, given that the majority of appointments are scheduled for 5 to 12 week intervals, students will miss out on minimal school due to their orthodontic treatments. Nonetheless, we will do our utmost to satisfy your scheduling requirements.
Can my child be dropped off for appointments?
Definitely. We recognize that our clients have busy schedules and we will happily assist you in making the most of the time that you have. On a few occasions, we might request to consult with a parent when he or she comes back for the child; therefore, we ask parents to check in with the patient manager prior to dropping their child off.
Will they hurt?
Typically, the braces will not "hurt." Though, following certain visits, you might experience soreness in your mouth for a couple of days. If this happens, pain medications like Tylenol or Advil will lessen the discomfort. However, following most appointments, patients will not experience any soreness whatsoever.
Will I be able to go back to school the same day I get my braces?
Absolutely. You will not need to miss school due to an orthodontic appointment.
Are they ever recycled?
Absolutely not! Our belief is that every patient should be fitted with their very own corrective devices in order to get the best possible orthodontic result.
Will I still be able to play sports?
Definitely. However a mouth guard is recommended for all sports.
Will I have to visit my family dentist while the braces are on?
Yes. It is very important to have regular checkups with the family dentist. He or she will decide the cleaning intervals while you have the braces.
What foods will I not be able to eat with my braces?
Once treatment starts, you will be given full instructions and a comprehensive list of the foods to stay away from. Those foods include: hard candy, raw vegetables, ice and sticky foods such as taffy and caramel. You will be able to avoid many emergency appointments to fix damaged or broken devices by following these instructions carefully.
How regularly should my teeth be brushed while the braces are on?
Your teeth should be brushed a minimum of four times per day; following each meal and prior to going to bed. Patients will be shown how to properly floss with braces and if necessary, we may prescribe a special fluoride as well.
What is considered an emergency appointment? How do you handle those?
If something breaks or your braces have you in extreme pain, you should contact our office immediately. Most of the time, these issues can be addressed over the telephone. If an emergency appointment is required, we will accommodate you.
Is there a possibility for orthodontic correction while the child still has baby teeth?
Definitely. There are orthodontic problems significant enough to necessitate intervention quite early. However, if the patient is not at the stage for treatment to begin, we will monitor the growth and development of that patient until the right time for treatment to start.
What is early or Phase One Treatment?
If necessary, this treatment is typically started on children aged between 7 and 10. The duration of Phase One treatment is approximately 12 to 21 months. The main objective for this treatment is to take care of significant problems to stop them from worsening and to improve self-image and self-esteem.
Will my child require full braces after the Phase One treatment?
Following this type of treatment, it should be assumed that the child will require full braces. The period after Phase One is known as the "resting period," and during this time, tooth eruption and growth are monitored closely. Throughout this time, patients and parents will be informed about recommendations for future treatment.
Why is an orthodontic specialist necessary?
Teeth, and from time to time, whole facial structures, are changed permanently by orthodontic treatments. It is very important that the treatments are appropriate for individual patients and completed properly. Orthodontic specialists have gone through specialized and extensive training which enables them to offer their patients personalized and professional treatments.